Who Are the 43?
On the night of September 26, 2014, in the city of Iguala, more than 100 Mexican municipal, state, and federal police officers, soldiers, and armed men, many out of uniform, ambushed five buses of students from the Rural Teachers College in Ayotzinapa and another bus carrying a third-division soccer team. They shot and killed six people, wounded more than 40, and "disappeared" 43 students. One victim's body was found on the edge of a trash dump the next morning.

His killers had cut off his face.

Intelligence officers from the 27th Infantry Battalion army base, located less than two miles away and tasked with fighting organized crime, observed and documented the operation but did not intervene.

News of the attack was met initially with muted outrage, mostly because the reports out of Iguala, a highlands city of 110,000, were confusing. For several days, government officials released conflicting reports about the missing students. It wasn't until October 4, when state prosecutors announced that they had uncovered the first in a series of mass graves on the outskirts of Iguala, that the national and international media descended on the region.

When forensic workers confirmed that the first of the 28 charred human remains were not the missing students, anger and horror became widespread. What would follow was eight years of protests, governmental fraud, independent investigations, and both national and international outrage. Evidence of collusion between local drug gangs, political leaders at every level of the government, local, state, and federal police, and the Mexican army and marines has emerged over the past eight years. Since 2014, confirmed atrocities similar to the 43 disappeared students have revealed that forced disappearances is a painfully common practice.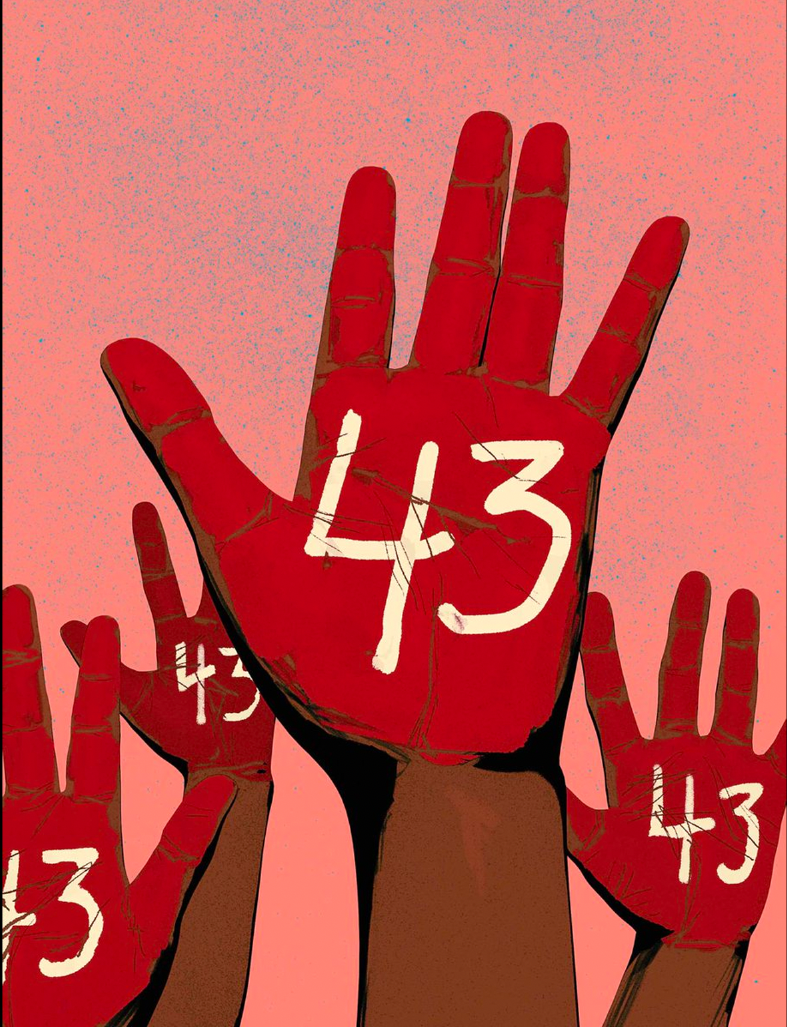 Holland Centennial Commons
Figures representing five Ayotzinapa normalistas in place in the Holland Centennial Commons, second floor. A sixth mirrored figure compels the viewer to "see yourself in the 43."