REMEMBER THE
43 STUDENTS
Journalists Anayansi Diaz-Cortes & Kate Doyle speak Sept. 26, 2022 @ 4PM in the Zion Room
(Holland Centennial Commons 537)
Utah Tech University campus

Art Installation and Campus Engagement
Sept. 16 - Sept. 30 @ Utah Tech University
Presented by the
College of Humanities and Social Sciences
in collaboration with the College of the Arts,
the CHASS Humanities Center,
the Center for Inclusion and Belonging,
the Institute of Politics, and the
Institute of Race, Gender, and Identity

Thank you to St. George Catholic Church for remembering the 43 and their families during the General Intercessions at Masses Sept. 24 and Sept. 25.

From whom can you demand justice if the same law that kills is the one that picks up the bodies? Where can one press charges if all the authorities are drenched in blood? The same law that takes measurements and conducts the investigation to discover who the killer is, is the one that committed the crime.
--Osiris in Alfredo Molano, Desterrados: Crónicas del desarraigo
"Remember the 43 Students" at Utah Tech
"Remember the 43 Students" commemorates the six people who were killed and the 43 students who were forcibly disappeared in a night of unspeakable political violence in Iguala, Guerrero state, Mexico on September 26, 2014.

For this, the eighth anniversary of the atrocity, we are featuring three events:
1. We are redeploying the "43 Silhouettes" installation in the Holland Centennial Commons (second floor) from Sept. 16 to Sept. 30.

2. We will share the powerful portraits of the 43 students created by Scottish artist Jan Nimmo in the Eccles Art Building from Sept. 16 to Sept. 30. Jan calls her collection "¿Dónde Están?"

3. On Sept. 26 (the eighth anniversary of the atrocity), Reveal Investigations journalists Anayansi Diaz-Cortes and Kate Doyle will visit classes and speak at 4 PM in the Zion Room (HCC 537). Diaz-Cortes and Doyle are the lead reporters on the After Ayotzinapa podcast and radio program.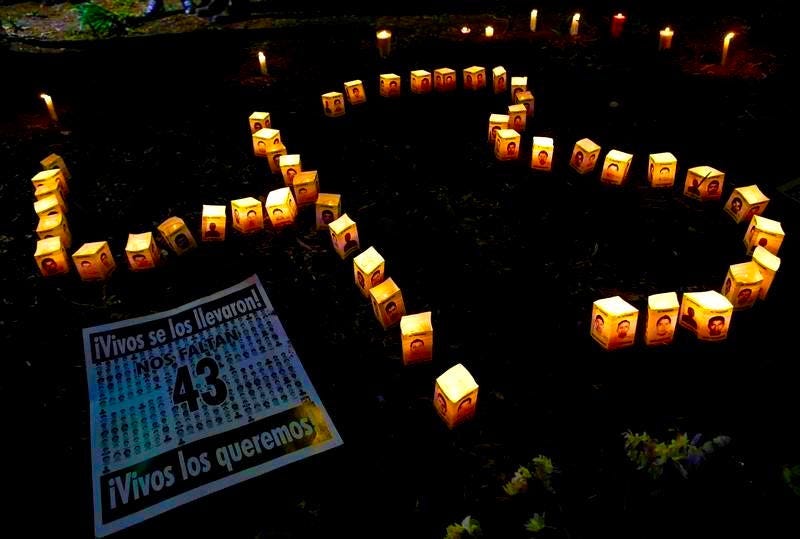 Visit the Installation, Virtually
While the "43" installations are best experienced in person in the Holland Centennial Commons 2nd floor and the Eccles Fine Arts Building lobby, the virtual tour below will give you a sense of the story.
Please contact us with your questions or comments.