REMEMBER THE
43 STUDENTS
Art Installation and Campus Engagement
Sept. 16 - Sept. 30 @ Utah Tech
Presented by
College of Humanities and Social Sciences
From whom can you demand justice if the same law that kills is the one that picks up the bodies? Where can one press charges if all the authorities are drenched in blood? The same law that takes measurements and conducts the investigation to discover who the killer is, is the one that committed the crime.
--Osiris in Alfredo Molano, Desterrados: Crónicas del desarraigo
"Remember the 43 Students" at DSU
"Remember the 43 Students" commemorates the six people who were killed and the 43 students who were "disappeared" in a night of unspeakable political violence in Iguala, Guerrero state, Mexico on September 26, 2014.

While the installation and events have concluded for 2021, we will be redeploying the installation and bringing new visitors to campus to speak.
Thank you for your engagement
The "Remember the 43 Students " installation at DSU has concluded. Thank you for visiting the installation and attending the events.


Thank you also to all the students, staff, and faculty at DSU who helped make this installation and campus engagement a reality.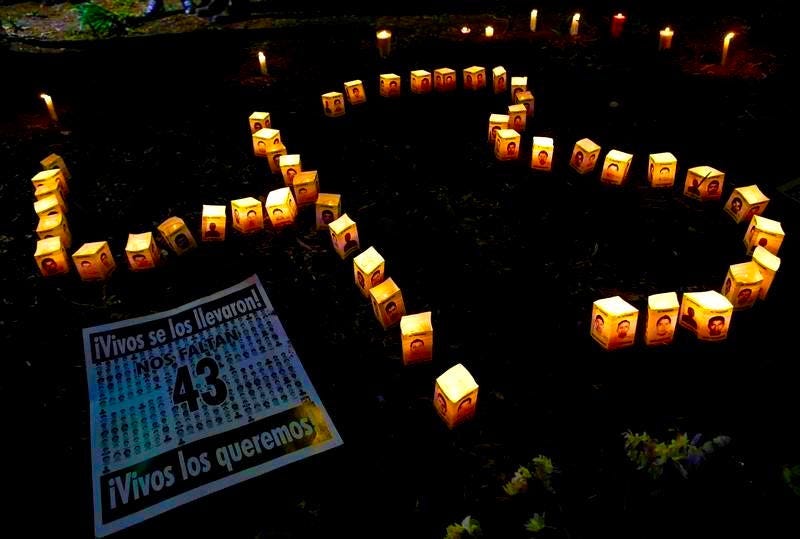 Visit the Installation, Virtually
While the "43" installation is best experienced in person, the virtual tour below will give you a sense of the story.
Please contact us with your questions or comments.